Minister – Rev Glen Schweitzer
Glen came to Chapel Hill as Minister in July 2013. He is passionate about the church having genuine, honest relationships and passionate about the church being people who point others to Jesus. His experiences in management and sales prior to entering the ministry, along with his 10 years at  a large Uniting Church in Logan, have helped shape his belief that people matter to God, that the Church is incredibly relevant in society today, and that in Christ the best is yet to come.
Glen is married to Vikki and has two children who he says are some of the funniest people he knows.
Youth and Young Families Pastor – Brett Scherer
Brett came to Chapel Hill as Pastor to Youth and Young Families in July 2017.  He is passionate about seeing families become the best they possibly can be.  Because this is the best way to see children grow to become confident, strong adults who are secure in the knowledge that they are enough.  He believes that the best way for this to happen is for the community of the church to work together with the parents to raise the children to know how much God loves them.
Brett is married to Vicki and has five amazing children.
Office Manager – Susan Joblin
Susan
has been managing the office since the beginning of 2011. Susan's background in banking and her genuine desire to serve means the office runs efficiently.
Church Council Chairperson – Michael Bradbrook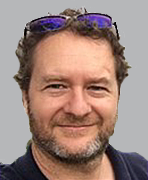 Michael has been part of the congregation since 2014, when he moved to Brisbane from Perth with his wife Denise and two teenage  children. During the week, Michael works in commercial management, supports Denise's psychology practice, and enjoys getting out on his bicycle as often as possible. Michael brings his gifts of servant leadership, discernment and compassion to his role on church council to help see God's work in the church and community.